---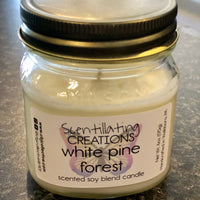 Take a walk in a pine forest and just breath in the forest scent. Now imagine the forest coming to you, in your home or office, every day. Ahh… This invigorating scent is a combination of balsam, fir needle, juniper and white pine and a gentle mix of vanilla and sandalwood, all together in one scent. Revitalize your home with our White Pine Forest candles.
Hand made with a Kosher certified Soy and Coconut wax blend, a self trimming cotton wick (though for the best and cleanest burn we still suggest that you trim the wick a 1/4" to an 1/8" before each burn), and clean fragrance oils that are phthalate free, made in the USA. We do not use any dye, so the natural off-white color may vary, depending on the fragrance oil used.
These candles are placed in a square mason jar, specifically created for candle making, made in the U.S.
Hand poured, with love, in Wellsboro, PA.
Net weight may vary from candle to candle.