---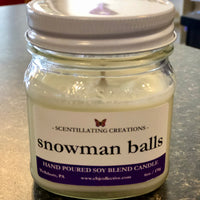 Our Snowman Balls candle is a provocative, racey new approach to preventing the winter time blues.  A FUN candle, that is sure to bring smiles to everyone. A spicy blend of peppercorns, nutmeg, and fresh clove, embodied with notes of elderberries, blackberries, plums, and fresh green oakmoss, with magical, effervescent top notes of carbonated fizzy pop and just a hint of cool mint. Our scented soy blend candles have a stronger scent throw in comparison to our 100% soy wax candles, while still maintaining a clean burn. They are made with a proprietary blend of soy and coconut waxes, fragrance oil produced in the United States, all settled in either an 8oz, 16oz, or 26oz Mason Jar.

Hand made with a Kosher certified Soy and Coconut wax blend, a self trimming cotton wick (though for the best and cleanest burn we still suggest that you trim the wick a 1/4" to an 1/8" before each burn), and clean fragrance oils that are phthalate free, made in the USA. We do not use any dye, so the natural off-white color may vary, depending on the fragrance oil used.
These candles are placed in a square mason jar, purposefully created for candle making, in the U.S.
Hand poured in small batches, with love, in our studio Wellsboro, PA.
Net weight may vary from candle to candle.